Cook's River Cycleway is part of the Ryde to Botany Bay Cycleway here in Sydney, and it runs basically past my house (well, about half a kilometre from my house)
This being the case, it's been a semi-regular part of my riding since I got back on the bike in January 2012. Back then, of course, I had fortnight legs*, so it was very nice to have a relatively low-speed stretch of flat-ish path, away from traffic. I used it a lot.
It has things wrong with it, but what doesn't?
But lately, there've been a few changes, around where the cycleway meets Broughton Street in Canterbury.
First, let's explain how it was, with the aid of a handy overhead view known to specialists as "a map"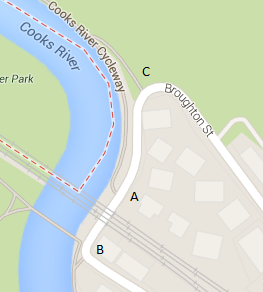 Continue Reading →