I raced at Newington Armory this evening – B Grade – and finished somewhere around tenth in a field of nearly 30. Not spectacular, but I feel entirely validated, having done enough work on the front to elicit positive comment from my clubmates.
So I figured I deserved a recovery drink. Belgian, obviously, for preference. We are cyclists, after all.
Well, it's Belgian style. Australian brewed. And entirely delicious. It's called "An American Werewolf in Belgium". Recommended, if you're not riding the morning after, obviously.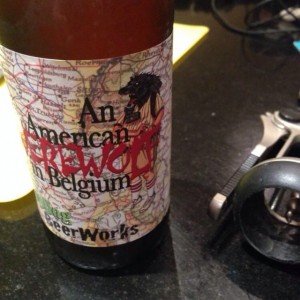 I'm certain that it'll make me at least a couple of watts stronger, once it's fully digested.
Cheers!