I pretty much missed the finish of last night's Fleche Wallonne. Why? I was having an argument with Velonews. You see, they'd posted this tweet, which was greeted by a not-altogether unjustified response: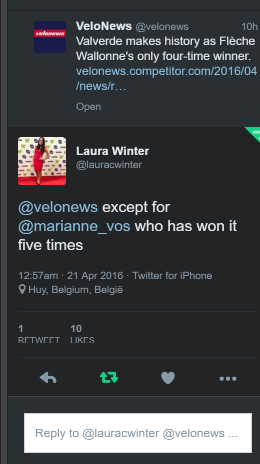 I, naturally, retweeted this. It's common shorthand to think first of the men's race, but this is a strong point. Marianne Vos has won Fleche Wallonne five times. So Velonews's tweet is factually inaccurate, but colloquially, it mostly gets the point across.
Is this really a problem though?
Well yes.
You see, it's lazy, and laziness does nothing to help rectify a situation of historical marginalisation. Women's cycling has played second fiddle for years , but we've had some recent, though hesitant steps forward. La Course is a thing now. We get coverage – partial, it's true, but coverage nonetheless – of the women's race at De Ronde van Vlaanderen. We see the women's world champs on TV. We got a smattering of coverage from the women's race last night, and even got coverage of the women's podium on the global feed. What we need right now is an active response to keep the momentum rolling.
So lazy journalism was always going to be noticed.
But what really particularly irked me was the response. Observe.
Yep, instead of just holding up their hands and issuing a clarifying tweet, Velonews decided to blame the character limit.
I copied their original tweet. There were fifty characters to spare. FIFTY.
It had nothing to do with the character limit. Besides which, you're a journalistic publication. Words are your business. Make it work.
Such responses are as lazy and unthinking as the original tweet. Velonews, you fucked up. To use some deliberately ironic, lazy and sexist language: You need to man the fuck up and admit it.
And pull up your damn socks in future.