I have resolved to blog more in 2018, and as part of that, I thought I might post up some routes I've ridden, or that I'm planning to ride, with a map and a description. I thought perhaps I'd start with a short-ish evening MTB ride in my new neighbourhood.
This route starts in Porepunkah, though obviously you could start down the road in Bright. It crosses the bridge opposite Punkah pub, and takes the riverside track upstream. It's a fun little ride, taking a nice flat gravel path aongside the Ovens, over a suspension bridge and onwards, emerging at the Porepunkah roundabout and onto the Rail Trail. This is followed to the Bright info point. From here, we hop onto the Great Alpine Road for a bit, then turn left at Fraser's Lane and follow the Canyon walk into town. From here we head out to Wandiligong. The route isn't hat important, but on this occasion I followed Wandi walk up Morse's Creek through the (frankly packed) caravan park and into Pioneer Park
At this point, you're officially into Mystic Mountain Bike Park, and there's a plethora of possible routes out to Wandi, ranging from the road, the bike path or firetrail and even tricky singletrack. I mixed a few up, starting on The Highway, then Flying Solo, then a little firetrail which dumped me out onto the bike path, which I followed into Wandi, then round Centenary Avenue to Wandi Pub.
Opposite the pub, you turn onto Growler's Creek Road, which is where the ride proper starts.
I called this ride "Banjo Country", for no other reason that riding out along Growler's Creek Road from the Wandi pub and vanishing into the bush does feel a little… backwoods. You follow that for a bit over a kilometre until you reach Hillsborough Track on the left. This is the beginning of the proper climbing, about 350m (or thereabouts) of it, from about 400m above sea level to a little over 700.
In the early part, you cross a couple of creeks and start climbing in earnest. On the evening I rode it, the lower part was a little sticky from a short spell of rain, and the track had obvioulsy been churned a bit from 4WD traffic, and there was definite evidence of heavy machinery, which made going a bit rough and slow. The humidity was fairly punishing too, but this would be fantastic on a drier, cooler day. You climb steadily until just under half height, at which point you find the first of a series of hairpins which zig-zag you up to about 650m elevation. This was probably the smoothest going of the ride, as the very last section, after a hard left turn, brings a less consistent gradient and some decent-sized loose rocks, which made climbing a little tougher. However the gap soon appears ahead of you and it's a last blast to the junction with Wet Gully Track and the Reliance Track, which is the chosen descent.
Reliance Track is pretty steep, and with a fairly loose surface, which would make it very tough going in the opposite direction, but heading down is fun. I guess it'd be more fun with full suspension and 200mm discs. I did it on my XC hardtail, so kept the speed down to avoid boiling my brakes too badly, but in the lower sections the surface firms up, the gradient evens out and there are some fun waterbars to catch a little air from, before you fly happily down past the Bright Storage reservoir and onto Great Alpine Road.
From here, turn left and then shortly afterwards head right onto Old Harrietville Road for a quieter road experience.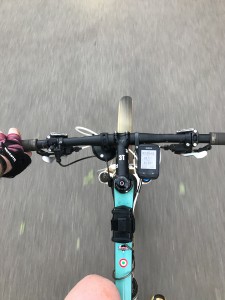 Once at the end of Old Harrietville Road, you have the choice of turning right and then left onto Back Germantown Road, which will take you back to Bright, or just taking the main road into town for refreshment. In my case, I hopped onto the Murray to Mountains Rail Trail and followed that back to Porepunkah Roundabout, at which point I reprised the Porepunkah riverside path back to the bridge.
This is about 40km round trip – about 30 if you start from Bright, and takes in a nice middle-sized climb over the ridge back into the Ovens Valley. There's an alternative version of this that starts further up Morses Creek Road from Wandi, and drops you out at the old Harrietville Cemetery, but that's a story for another day. And besides, it may be better ridden in the opposite direction, so I'll save that one.
So that's what I got up to the other night. More to come later.