Who?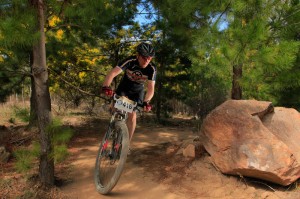 Jason Brown. 30-something mountain biker, coming into my second year back on the bike after a long break.
I spent more than ten years not riding. Well, I rode very occasionally, but was out of shape, unhealthy and generally suffering from what could be termed "desk job syndrome". Simply put, I was fat. And sloooow.
In January 2012 I decided (not without some prompting, it must be said) to get back on the bike. I dusted off my old 1992 AlpineStars hardtail and started pedaling. I've only really stopped for rest days. Oh, and I've lost about 25kg, retired the AlpineStars in favour of a BMC Speedfox SF03, broke that, replaced it with a Speedfox SF29, and augmented that with a couple of other bikes, including a hardtail and a roadie on loan, followed by a Trek Domane 4.5. This collection will soon be joined by a Bianchi Methanol SL 29 hardtail, for the faster, better groomed trails of the season. I now ride almost every day, and I probably ride more kms now than when I first raced MTBs back in the 90s.
Nowadays I race the Mountain bikes, in the 'Endurance' sector. I mostly do 4 hour and 7 hour endurance races and the ~100km XCM format. Results vary, but can be found here. Future plans include a more structured training programme for the 2014 season, experimental participation in some solo 12 or 24 hour races, and a concerted attack on the full Shimano MTB GP series in 2014.
What?
A look at cycling from the perspective of the aforementioned 30-something mountain biker. In keeping with my usual style, much of it will be misinformed ranting, coupled with poorly-directed sarcasm, arrogance and bile. Occasionally I might enthuse about something, especially around the time Paris-Roubaix runs.
Why?
Well, because I like writing, and frankly my other blog isn't really about cycling, and I had the feeling the cycling posts were looking out of place. The other blog is generally for ill-considered ranting on the topics of science communication, tech, atheism, skepticism and beer. This blog may also include beer, but it will be labelled "recovery drink".