So as I intimated in an earlier post, I'm now the proud owner of a carbon hardtail MTB, more specifically a Bianchi Methanol SL 29 XT. I took it out on dirt for the first time yesterday, and my impressions so far are more than positive.
So the basics on the bike
29″ Carbon hardtail.
RockShox Reba RL 100mm fork w/poploc remote lockout
XT groupset (with the exception of a Truvativ X9 double chainset and FSA chain)
FSA components, Magura hydro discs, Selle San Marco saddle
Fulcrum Red Power wheelset, shod with Kenda 24seven rubber
In focus, it's a racing-oriented carbon XC hardtail. Pretty straightforward, right? Well yes. But no. Because there's some serious thought gone into this frame and while you might not agree 100% with what's come out, you have to tip your hat to the design.
Take for example, the huge pressfit BB30 bottom bracket shell. This is all about maximising power throughput by stiffening the drive portion of the frame, and it seems to work pretty well. The bike responds to a kick  with alacrity. See also the asymmetric stays, downtube and BB, strengthening the drive side while keeping the non-drive nice and light. It also includes snaking seatstays for a modicum of vertical compliance, and there's plenty of thought been put in for the inevitable knocking about it's going to get, from a metal insert behind the chainrings to save the carbon from chainsuck, to top-tube routed cables to a titanium mesh weave in the highly vulnerable downtube area, this is a bike that wants to make it right through multiple racing seasons.
Things I'm not sold on about this frame, though? Well, the integrated seatmast is a good idea which seems to just not work perfectly, and this is mainly due to the Ritchey mast topper. Obviously the mast takes away the degree of adjustment offered by a traditional seatpin, though you can get 15mm or so by deftly deploying spacers in the mast. This gives me enough adjustment for a full on-road/firetrail height and a very slightly lowered technical singletrack position, but the measurements and deliberations it took to get the exact right cut point was a bit trying. But once that's out of the way it's all cake, right?
Well, not really. The mast itself quotes 5Nm of torque for secure fastening, but when 5Nm was applied, the saddle still rotated. Bugger. Closer to 8Nm and it seemed OK, but I have concerns for the carbon if I were to go much further. That's one. Second, I can never quite get the fore/aft rail position on a new bike quite right without getting out and hitting at least a couple of climbs. Measurement from my current bike only got me so far with this one, and I had to adjust it fowards a little. Which was an immediate pain. To get the rails to slide, I had to withdraw the bolt entirely, and then it refused to go back in without some negotiation. Trail adjustable it is not. It also creaks ever so slightly. So chances are that at a future date the frame will get another cut and a seatpost and clamp will go on instead.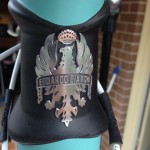 Component wise, aside from some teething troubles with front mech adjustment, I couldn't be happier. The XT shifters are crisp to the point of insolence, the Magura brakes have great reach and feel (though perhaps a little extra sharpness needs to be dialled in), and the wheelset is a solid performer – though it will be replaced with my Hope/Crest race wheels at some point in the near future. I'm not entirely sold on the saddle, so chances are that'll be swapped out for a Fizik Tundra in custom black/white/celeste colours once I can wrangle the money out of the CFO. The fork is a solid performer and delivered what seemed to be a great balance of precision and suppleness from my 50km or so first-day jaunt. And the poploc is going to be of great value, once I can get my thumb to remember exactly where the buttons are.
The overall feel of the ride though? I'm sold. Completely sold. The colossal stiffness that the frame delivers means that this bike is stunningly precise. Every corner, I pointed the bike and it went there. My previous two MTBs, though admittedly both FS models, had inherent flex and didn't always offer millimetre-precise cornering like that, and it was an eye-opener. The opening foray was at Old Man's Valley MTB park in Sydney's northern suburbs, a well-groomed and relatively new little park which I figured would be a gentle enough return to hardtail riding. Aside from one blind crest where I forgot which way the track went, everything went exactly the way I wanted it to go. That little lack of attention was nearly punished, as I was travelling pretty damn quickly, but I got out of it unscathed. Shakedown run done, I jumped back in the van and headed for Ourimbah.
Ourimbah is a bit more challenging than OMV. The lap is longer and it's more technical by far. I can usually judge how a lap will go, though, by the opening few hundred metres. There's a rocky opening section which feels terrible if you hit it slowly or off-line, then a fast, water-eroded downhill chute from Bellbird into Jurassic Park which on a bad day will have you fighting the bike to stay upright. Both just disappeared past me without a thought and I was into Jurassic and over the drop-off in no time at all. Good omens.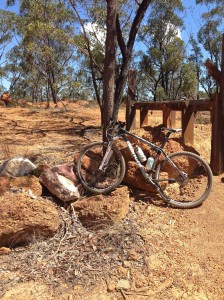 Climbing Burnt Forest was where the precision of the frame felt really good. The stiffness meant good solid pedalling and an exact line in corners without fear of clipping a tree-root or rock. Reaching Rollercoaster I expected the hardtail to punish me a little, but in fact it went smoothly, if a little slower than normal. This was, after all, my first day out on a completely new bike and I didn't quite expect to throw personal bests everywhere. The descending sections that follow highlighted the overarching impression of the day – precision. I started to look at the trail differently, as it became clear that I could just place the wheel exactly there and come out the other side carrying more speed.
Mid-lap I had some issues shifting from small ring to big, and stopped for a while to figure it out. Then back on and into the often sticky and damp lower section of the track.
I found a completely new way of taking the opening section of Lost Forest, skimming off the lip of a washout an setting up the next section perfectly. For the first time in a while a bike made my laugh out loud with happiness. If I'd tried that on my Speedfox I'd have probably missed the sweet spot and ended up either eating dirt or overshooting into the bushes.
Yep, this is a good bike.
The nasty corner in the climb back out – Heartbreak Hill – was the last challenge that stood out in my mind. This is a tricky uphill blind bend with a small step-up after the apex, and it catches riders out with monotonous regularity. I crashed twice on this bend during July's Shimano MTBGP round. This time, all I had to do was coast the corner wide, flick the front wheel where I wanted it to go and kick. And I was through.
That completely sealed the deal for me. This bike and I are going to be very good friends.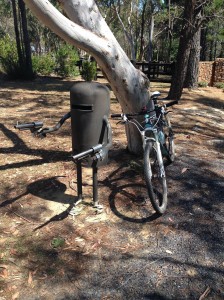 I'd only budgeted a half day for this outing, so I thought I'd take a quick trundle up the firetrail climb from the carpark. I vaguely remembered there was a right turn a short-ish way up that would send me back to Yarramalong Road for a ~5ish kilometre firetrail and tarmac loop, just to see how the bike felt on long climbs.
Turns out I missed the turning and ended up riding the whole of Red Hill Forest Road to the top of Bumble Hill Road, rounding the day out at a bit over 50km, and a ~70km/h tarmac descent back into the Yarramalong Valley to top it off. The bike climbs beautifully, and will be even better once the riding position is tuned with a negative rise stem and the saddle slightly further forward on the rails. The Poploc means quick lockout with no loss of effort, and as you'd expect, the stiff rear-end means any effort at the pedals is rapidly translated into forward – and upward – motion. The only unpleasant part was the inevitable patches of sand that Aussie firetrails develop in dry weather. And the heat.
First impressions then? This is a serious bike that enables some proper fun for a dedicated XC rider. It's not a casual rider's bike by any means. It rewards pedalling effort and concentration, but might punish sloppy riding. Technically, it's a joy to behold, though some details – like the mast and topper – are a bit niggly. It weighs in, in off-the-shelf configuration plus eggbeater pedals, at 10.8kg, and should be fairly easy to drop under the magical 10kg mark with race wheels and a couple of small upgrades. Gets pride of place as 'favourite bike I've owned' by a fair measure.
Love it. Big thanks go to Atelier De Velo for the bike and the set-up work. Call in and say hello, drink a coffee and look at the bikeporn on offer. You won't be disappointed.