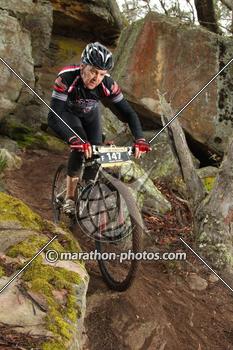 Yep, the 2013 Camelbak Highland Fling went off yesterday, but for me the day was not without a hitch or two.
Last year, I signed up late for the Fling after posting a competitive time at the 2012 Kanangra Classic. I figured another 100+km XCM a week or two later would be awesome, so I headed off to Bundanoon at an unholy time of the morning, only to end up parked at the side of the Hume Highway with a flat tyre and no spare. I'd used my spare the week before and not got round to replacing it, so 2012 was a no-show. I went home and sulked.
So this year, inevitably, I had unfinished business with the Highland Fling
On Friday afternoon I tried to start my van.
Nothing.
I figured the battery was flat, so I popped the battery on charge and tried again later. Nothing. Next morning, I put it back on charge, poked around with a few things and went out for a shakedown ride on my race bike around some local roads. Got back, tried the van again. Nothing.
OK, this was looking bad. I messaged a few mates looking for a lift or a loaner. It was too short notice to get a train down and grab accomodation. After a panicked hour or two a lift emerged and I heaved a great sigh of relief. Pre-race tension is emphatically not helped by running around like a headless chicken trying to arrange transport. Neither is it helped by an appalling weather forecast, but more of that anon.
So, thanks to Andy Johnston and Steve Kick I got there this year, in plenty of time to pick up race number 147 and get changed into some extra layers. The Southern Highlands are ever thus – colder by a fair margin than you expect, and a persistent drizzle made things a bit more miserable. The trails, for their part, would be damp and somewhat slower that a dry race would have been. I squeezed in a quick couple of KMs warmup with Steve and headed toward the startline.
I wasn't overly happy with the way my forks were feeling, and popped them in and out of lockout mode a couple of times, letting Cunning Kicky get away to jump the fence and get a good starting position. I was left much further back in the pack, more than halfway down the first start wave, with the benefit of the quick warmup rapidly cooling out of my legs. The start gun, though,eventually fired off and it was conga-line time through the starting arch. The head of the field was already a couple of hundred metres away by the time I got clear space, and accelerating. I put my head down and started clawing my way through the field.
The first couple of kilometres were a protracted game of catch-the-kicky as I threaded my way through the riders ahead, hunting down the fast guys. My usual tactic here is to try and stay between tempo and threshold on my HRM – high three and low four in zone terms – and settle into a rhythm, but that went out of the window and I just kept pedalling at the upper end of zone 4. The opening firetrails and paddocks were an ideal place to make up lost ground before the singletrack, and that wasn't a chance I'd squander.
Soon we were across the first of the river crossings and heading into bumpy paddocks and a section nicknamed Boags Draft. Here, just as I thought I'd spotted Steve up ahead, it became clear I had a problem. Something went "pop!" in my fork and I went from having not very satisfactory suspension travel to having basically no suspension travel at all. This wasn't good. I hate paddock riding at the best of times, but with a misbehaving suspension system, I was getting knocked around and struggling to put the bike where I wanted it. My teeth were being rattled and my vision blurred over corrugated sections. Coupled with the drizzle and headwinds, this was just plain unpleasant. But I kept pushing as far as first transition, where I stopped to take stock.
Well, the fork wasn't really moving much. Something had gone severely wrong. Playing with the lockout control didn't seem to have much effect, and changing the damping control did nothing apparent. I shrugged my shoulders and tried the last resort – dropping some air out. The fork went flat.
Bollocks.
Now in addition to being rigid, the geometry would be completely changed, with the bars around 100mm lower. Looking around, I momentarily contemplated dropping out, but I found the bike was still ridable with the fork in lockout mode. I know from experience that with tail unlocked and fork locked, it feels like walrus rodeo, so both ends would need to be locked, which would make things demanding. Having never ridden the area before, I had no idea how rough Wingello was likely to be, so I took the gamble and headed out.
Firetrails were OK, except on corrugations, where they were torture. Singletrack was hard, and I had to spend an inordinate amount of time out of the saddle and reminding myself not to hit rocks or roots too heavily. My lines had to be more precise, and there were few second chances if I messed up a corner, but I still found I was able to catch other riders. Generally I'd sit behind for a while and cool off. Sometimes I'd let someone through and find I'd be holding their pace without too much trouble. The immediate penalties of the forks were in the fast downhill firetrails, and the flat or downhill bends, where I was forced to drop my pace for fear of losing the bike entirely. Uphills, unsurprisingly, were unaffected. I usually lockout the tail on climbs and will lockout the fork if it looks smooth enough. With the bike in lock by default, I didn't even have to make that decision, and the climbs flew past, with even "The Wall" not feeling awful (though I admit I walked maybe the last third).
Despite climbs feeling good, though, my upper body was getting trashed, my legs were feeling the penalty of so much time out of the saddle and the need for more focus meant I wasn't feeding or hydrating as much as I would have. It's surprising how much good suspension helps beyond merely smoothing out the bumps. For an XCM, its main role is to help ease fatigue, and that was something I could have done with.
I got to the 50km feeding zone and again considered canning it. But being in the middle of Wingello Forest I probably had a big ride ahead of me either way. I took a long stop and fiddled with the forks once more.
Well, it transpired that I wasn't the only one with suspension trouble. A nearby rider on a Specialized Epic had the same issue as me – a popping noise and suddenly no fork travel. He managed to find a shockpump from somewhere, and I asked for a loan too. This meant I could get about 75psi or so into my air shock – about half that recommended for my weight – and get some minimal fork travel back. I got maybe 40-50mm from the fork, profusely thanked the pump's owner and pledged him a beer. I'd lost some serious time, but it was back on.
I figured the bonus suspension travel wouldn't last long, so I made the best of it. I could hammer down from the feedzone into the valley beyond, then give it some stick towards the foot of halfway hill. The rider who'd loaned the pump pulled alongside, cheekily popped a mono, asked if we'd ridden the race before and regaled our small group with the news that Halfway Hill – just ahead – was harder than "The Wall"  by dint of being longer by a fair margin. And here commenced my period as a human yo-yo.
With the spectre of cramps showing its face occasionally, I'd go back to my default mode of hitting the climbs hard, overtake a decent handful of riders, then pop a cramp, slow up to recover, and get caught again. This happened a few times before I dismounted to both de-cramp and clear some debris from my dérailleur. I spotted a familiar nameplate float by. I follow Han Strating on Strava  – he's an Inner West rider like me. So I said hello, got my bike and legs in order, and proceeded to drag myself back up for a chat.
It took a while, and just before we got out of the valleys and onto the plateau, I was passed by a rider in Garmin Sharp kit on a Giant 29er. Ah! It was Lachlan Morton, Garmin Sharp ProTour rider and Aussie cycling celebrity. I'd heard Lachlan was going to ride the Fling. Nice. I was in the same race as a World Tour Professional. As meaningless as that is, it gave me a nice little psychological boost as we approached the end of Stage Two. I had two riders to chase and just about had the legs to chase them with. I caught Han, had a bit of a chat and, rested, put my head into the wind. I thought Han was on my wheel but after a few minutes of effort I looked round and no-one was there. It was me against the breeze again, and I kept it pegged towards transition and the start of Stage 3.
I arrived at the Bill O'Reilly Oval not too long after Lachlan and asked how the adjustment to MTB was going. Apparently he was enjoying it, aside from the choice to run road shoes and pedals, and asked how far we had to go. I wasn't sure. My Garmin was reading a little over 70km, so I figured about 30km. Lachlan headed out, I took a few moments more to get some gel down, curse my forks and check my water situation. I figured I could get to the end on one bottle, and I had a little left in one and another full. I opted not to refill and just headed out.
The forks were back to almost no noticeable travel and I had no idea what the next 30km or so would contain. Han had said the last stage was singletrack-heavy and a bit painful, and I knew the Magellan KOM point was somewhere in the last stage, but I hadn't done a lot of homework. It seemed like a lot of firetrail to me and I started to brighten up in the hopes Han had been sandbagging. It turns out, not so much. The last section contains some long grind-it-out hills, a lot of pinch climbing and some of the most technical singletrack of the day – as well as the greatest concentration of MTB madness. It was also cramp city, though I was managing that by staying out of the saddle as much as possible.
At Brokeback mountain, a long, zig-zagging climb, I started to pass through a densely populated zone of Half Flingers which would continue until the finish. These guys had started maybe twenty minutes after the Full Flingers but were still riding nearly five and a half hours in, which gave me pause for a moment. This really is a mass-participation community event and not merely a pack of overly-driven weekend warriors chasing each other across some hills. This was further brought home at the top, where a small choir of locals was singing "Three Blind Mice" at the passing riders. This, I decided, was somewhat surreal.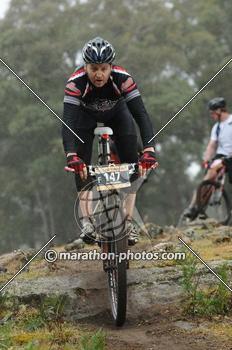 Over the next few kilometres there were bush sculptures, punningly-named singletrack sections, a mad bongo drummer and a giant mirror, among other things, to keep me baffled and somewhat amused for the last section of the race. There was also a lot of off-camber and tree-rooty trail, and some narrow squeezes between trees and rocks demanding focus and precision, so the slight dehydration that was creeping in was a worry, but eventually, with a couple of sips left in my bottle, I was back out onto the now familiar roads of the opening section and almost home. The Garmin was ticking towards six hours, and there was no way I'd be outside that margin now.
A quick detour through the local stables, under a low bridge and I could smell a sausage sizzle. Out of the saddle and give it some stick, over the line with the Garmin showing five-fifty-seven-and-a-bit. The organisers retrieved my timing chip and ushered me out of the finish zone before I remembered to stop the Garmin, still under six hours on the screen. My official time would eventually wash up at 5:48:49. My original pre-race target had been to get close to or under five hours, which got changed when the weather forecast rolled in. Five-and-a-half would have been good in the damp windy conditions, but with a broken bike getting under six was more than satisfactory. But I was drenched, thirsty and completely battered.
I ended up 47th in the Male Veterans class  – from 146 veteran starters – or 132nd overall, which is better by numbers than either of the other two XCMs I've done this year. Each had their own disaster. At Capital Punishment I screwed up my preparation and fell to cramp quite early in the race. At the Convict 100 I crashed hard and lost a lot of time. This time, it was something that was pretty much beyond my control, but I managed to get through it OK and came out with a pleasing result – and that's why I'd call this my favourite XCM of the year by far. Steve, for his part, ended up an excellent 20th in Masters and Andy, who'd talked down his chances, managed a 6:31, a single minute outside target.
In terms of the overall event, there was some tussling among the male elite field with the first man over the line – the perennial winner Andy Blair – relegated due to an infraction at the Wingello level crossing. Cycling Central has the report here.
So it's hats off to the organisers, the riders and the local community for an excellent Highland Fling 2013. I'll be back next year, of course, and this time I'll organise reliable transport well in advance, as well as a thorough bike service in the leadup. See you there!
 Other reactions:
Official reaction hub
James Downing
Matt Page (100 mile)
Flow MTB
TBSM