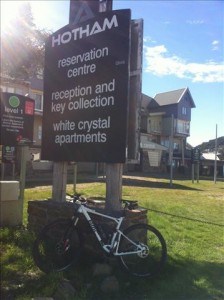 I did it. I signed up for the 2014 Three Peaks Challenge. In March 2014, barring flood, fire, disaster or accidentally being maimed by a tree, I'll be lining up for about 235km of highly scenic – and steep – riding through Victoria's Alpine region.
Not coincidentally, I've also signed up for the 7 Peaks, a more spread-out seasonal event that runs through the same area, and my Three Peaks ride will knock over two of those seven peaks, Hotham and Falls Creek.
My plan will be to arrive in Bright in plenty of time, warm up on Mount Buffalo, then fuel up and get some sleep. The next day, line up for the Three Peaks ride itself. Then a few beers with friend Jon from the Bright Brewery, more sleep, and next day – legs permitting – either Dinner Plain or Mount Buller before heading to Melbourne for a couple of days of cocktails and culture. And rest.
It also means I'll be on structured training as of Jan 1st, which is one of my pre-requisites for next year's objectives anyway, and I'll be following some of this advice, courtesy of Cycling Tips. And I won't be using the bike I rode up Mount Hotham last time – pictured.
Are you doing the Three Peaks this year? Are you in the area and interested in joining me on one of the other hills? Or perhaps for a beer? Let me know.