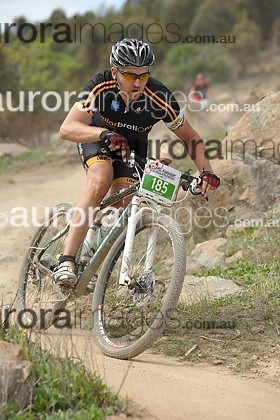 I'm still in the process of drafting my blog posts from this year's Three Peaks Challenge, but in the meantime I lined up for the 2014 Capital Punishment 100km XCM. In 2013, despite cramping early in the race, I did a time of 4:47:55. This year, I was lining up much fitter, much stronger, on a bike nearly 3kg lighter and with an extra year's experience. If nothing went wrong, I was going to shatter the previous year's time. To tiny pieces.
Of course, things never work out perfectly on these days.
The first section went quickly. It felt like PB segment after PB segment (and in fact was). But after about 30km or so, around where Kowen Forest turns to Sparrow Hill, I felt the rear end of the bike getting a little loose. The tubeless rear tyre – which I'd freshly filled with latex the day before – was losing air, albeit slowly. I took a stop to check it, used a quick squirt of CO2 and took the opportunity to shed a clothing layer. Pressing on, I transitioned into the darker, denser pine forest and coming through a particularly tree-rooty section I heard the ominous hiss of a deflating tyre. The rear end got very loose and I dropped off the track to the left. The sidewall of the tyre was visibly leaking, with latex shooting out, though it wasn't a big hole. In the hope of getting it to self-seal, I used some more squirts of CO2. No luck.
At this point, I realised with some trepidation that I'd run out of CO2 and I hadn't grabbed any spare cylinders. Or a pump.
I wasn't the only one. A rider in a Defence Force jersey rolled past me on a flat tyre, seemingly determined to keep going despite the lack of air.
Quality.
Luckily, a little while later a passing rider offered me a pump (thank you Rider 188) and with the assistance of a little energy gel applied to the tyre casing to slow the airflow, I got the hole to self-seal. Enough, at least, to ride on. I managed another few quick-ish kms, topped it up again, worried slightly about a now-leaky valve stem, and started again towards the Majura firing range. I'd lost time, but it wasn't unrecoverable.
Or so I thought.
Maybe halfway into the range, I felt the rear end suddenly go loose again. That was it, no more relying on the self-seal. Clearly I had too many problems. I decided to put my spare tube in.
This was where it all went wrong.
Popping the tyre off the rim, I glanced a look at the rear of the dodgy valve stem. The plastic was disintegrated, the clear source of the second leak. I'd clearly pushed it over the edge with the pump earlier on. I gave the lock ring a twist to get the stem out and fit the tube.
Nothing
The ring was seized.
I couldn't get the valve stem off.
I spent an absurd amount of time wrestling with it, first alone and later with another rider, who produced a pocket Leatherman, which still couldn't get the ring undone. It was only by using my chainbreaker as an improvised vice to hold the stem itself while the Leatherman turned the ring that we eventually got it moving.
According to Strava, I'd spent about three minutes on my first stop, maybe twelve minutes on the second, then around half an hour on the third. 45 minutes lost, and not even at the untimed section yet. It was just about segment times now. There was no chance of beating last year's time from here, and I had no reserve tube – so smashing hard and risking another puncture was not on.
So I rode tempo into Majura Pines and the untimed section, filled up well on food and continued on towards Black Mountain and the resumption of timing.
Through the gate and no more than a few pedal strokes into the firetrail, my chain sucked up and around the chainring, locked the cranks and forced me off the bike again. I quickly unjammed the chain but the front derailleur was now out of alignment, leaving me only the climbing ring. I pressed on for a while, but soon figured a stop now to fix the gearing wasn't going to make things any worse.
The derailleur cage looked OK. The clamp looked to have twisted on the seat tube, but I had no time for a full inspection. Loath as I am to tighten bolts round carbon components without a torque wrench, I reset the alignment and headed on towards the National Arboretum at tempo. The Strava trace shows most of this section as slower than last year. My heart definitely wasn't in it. Heading into Stromlo I could hear the event centre and seriously considered jacking it in. Had there been a marshall present at the entry to Fenceline, I'd probably have turned off there and then, but the station was unattended, and I headed on towards the feed station after the Playground at about 86km distance.
Jason English, already finished long ago, was chilling at the rest stop. I grabbed water and a few jelly snakes and jokingly chatted about whether, if I were to quit now, I'd get the finishers' beer. The outcome: screw it. The trails from here are world class, and even if I just trundled them, it was worth doing just for the view. So I headed into cockatoo switchbacks at cruising pace, with occasional little bursts to catch the riders ahead.
I'd clearly caught them quickly enough, as they offered me track, but I declined. I wasn't racing any more. I trailed them to the observatory, and as the trail opened up, gave a little kick and passed into Echidna Gap. Another small group of riders were passed on the way into Western Wedgetail, and I had clear trail into the most fun section of the day. Wedgetail into Skyline into Luge, probably the best section of singletrail around.
So I gave it a kick. Personal Best on Wedgetail gave way to another personal best through skyline. Even with 90km in my legs, I was much faster, nearly ten seconds faster, than previous runs through here, even the warmup run I'd done the day before. And I wasn't even sticking my neck out as I'd done on some previous races. The benefits of the hardtail were showing through – precision on these well groomed trails is worth much more than rear suspension.
That is, if your tyres can take the extra pounding. Turns out mine couldn't, and the rear tube let go just before the end of skyline proper.
I rolled into the opening of Luge on a completely flat tyre, then climbed off.
This was pretty bad. I'd have done a Kittel and thrown the bike, except that I actually quite like my bike and, frankly, I don't get this shit for free.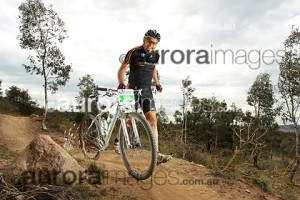 So, I walked it in. From halfway up Mount Stromlo, dodging riders on their final descent, I trudged, alternately carrying and wheeling my bike as I went. I even went the full distance round the crit track instead of cutting across, just so I could say "at least I finished". A rider suffering from crippling cramps rolled in next to me, cursing and staggering, but managed to get back on and pass me into the event zone. I jogged it in, with the bike on the rear wheel, to applause and commiserations, and a rather nice Four Pines Brewery Kolsch, which I slammed down gratefully.
Final time: 5h40m12s. Just a little less than an hour slower – 52 minutes 17 seconds, to be precise – than last year. Slightly faster overall than the stated average time for the race of 5:52:45, but still not great. I figure my stoppage time was 55 minutes to an hour, so even if you don't include the run from Skyline to the finish, an the sections I was basically trundling, I'd have beaten last year's time substantially.
Frankly, it's a race I'd rather forget, but that's exactly what I shouldn't do – because I did learn a few lessons. To whit:
Lesson 1: If you run tubeless, one of the things you should regularly inspect is the valve stems.
I had valve core trouble a while ago – so changed the cores – but didn't check the stems. And these stems have been in the setup since day one. I should have realised that the valve stem was a liability and changed it every time I had the tyres off.
Lesson 2: In a pinch, your chain breaker is a vice or pliers. Also, carry a pliers.
Having a tool that can apply pressure can be pretty important in a field repair. Having two might save your bacon. If I'd known this trick before this race, I might have saved 25 minutes
Lesson 3: Carry a pump, or carry twice as much CO2 as you'd hope to use.
CO2 is all very well, but a good pump doesn't run out. If it's a short race where one or two stops will outright ruin it for you, fine, stick with the lightweight setup. But if its a long race where you can maybe afford to lose a few minutes but still achieve your objectives, take the pump. Please.
Lesson 4: Carry two tubes or a decent supply of patches
Normally I carry patches. They're usually in the same container as my tyre levers. For Cap Punishment, for some reason, I didn't have them. And that reason may be that I changed my habits for the Three Peaks, and the patch kit was still in the road bike's saddlebag instead of in the little box with my tyre levers. Preparation and all that. I should have had a pump, some patches and a leatherman-style multi-tool. But I didn't. So, BLEUURGH.
Still, I made some good choices. The hardtail was absolutely the right choice for this race. The singletrack is well-groomed and smooth, and the ability to give it some stick uphill – or indeed on the flat – is worth a lot. Going with bottles instead of a Camelbak, as I did last year, was also correct – the rest stops are well-enough situated that it's actually fairly hard to run out of water, and there's enough firetrail and asphalt to make grabbing a drink easy, whereas there are some races so singletrack-heavy that where to grab a swig becomes a strategic choice to be written into your race plan in advance.
The summary?
Not happy with the outcome at all, but there are sufficient learnings to at least write it off as a learning experience. Plus I got to chat about endurance racing with Phil Welch on the bus back to the car after a beer or two, so at least it ended in a fun way.
Next race: ABAWA – by which I mean Rocky Trail's opening round of the Shimano MTB GP – Awaba… in reverse. Eeek.
Some other reactions: