Coming up in September is 5Zero, Bright's newest bike event, a 50km Gravel Grind loop with a strong environmental theme. Obviously I'm signed up, so I took an opportunity to recce the 53km course a couple of weekends back.
I skipped the opening sally that all three rides take in – I'm very familiar with Mount Porepunkah Road, which climbs on smooth tarmac out of Bright, before giving way to rough chipseal and then outright gravel. On the day, that will be a harsh wake-up call for the riders, up to Quins Gap. After that, the routes go over Tom Briggs Road overlooking Porepunkah. I'm also pretty familiar with that section, so skipped it on my reco. There'll be a lot of burning legs on the day by the time riders curve around the western tip of Tom Briggs and start heading downhill for the first time.
The riders then sneak around past Porepunkah's water treatment lakes and onto Roberts Creek Road. 13km riders will throw a left here and head back to Bright via the Murray to Mountains Rail trail. Everyone else will turn right into Porepunkah and cross the Great Alpine Road at Porepunkah Bridge just near Buckland Roundabout, where the dirt -and the climbing – starts again.
There's a short nasty firetrail climb up into the pines right after the road, which can be bypassed in quite a fun way by some singletrack that winds through the pines to its left, look out for the entry to the singletrack on your left, it's quite enjoyable. Riders will then drop back down towards Buckland Valley Road before taking a hard left onto Longly Road. It's all gravel from here until the 38km riders get back to Bright, or until the 53km riders reach Wandiligong, so get settled in.
There are some rather nice views over Buckland Valley from here, if you care to look back. Depending on how you're treating the day though, you might be head down, smashing towards Royal George Road.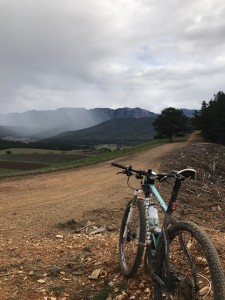 There's some more climbing here, and at the top a slightly confusing left turn downhill. Don't turn hard left and head up the crazy steep bit – instead roll downhill a little way and take the switchback downhill. Even with the GPX file running on my bars, I nearly messed this up and my Garmin didn't tell me until I'd slogged a decent distance up the steep climb.
You've got a few pleasant downhill kilometres now until the next corner, which is much more obvious on the GPX file, leading to some more down-then-up action taking you eventually to Dingo Ridge Road overlooking Buckland Valley. Now you've got an easy time of route finding until you reach Moran Road, where all riders will turn left and head up to Clear Spot lookout. I believe there'll be a support station here with water and food, which will be a welcome sight indeed.
After Clear spot, the routes Diverge again. The 38km riders will drop down off Clear spot by retracing their steps to Dingo Ridge Road, doubling back around Eagle Peak and turning right to descend into Bright, where they'll emerge onto Bakers Gully Road and Ireland Street, and from there back to the Brewery for a well deserved beer.
The 53ers, however, will continue left after leaving Clear Spot along Moran Road to Demon Ridge Track, which is followed until you spot a sign for Stans Road and Wandiligong. Fork left here, don't continue onwards or you'll be pedalling a lot longer than you need to.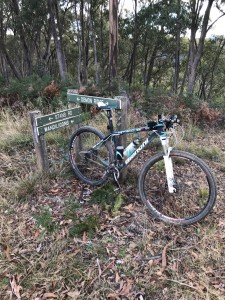 A nice brake-boiling descent into the valley ensues from here on, and you're soon dropped back onto tarmac at Morses Creek Road. The parched may stop at Nightingales produce store for some apple-related energy top-ups here before hopping back on and heading towards Wandiligong proper.
Unfortunately, the official route doesn't take you to Wandi Pub, as you turn left on Centennial Avenue before you get there, however clued-in locals will know about some extra gravel trail from Royal Bridge Track just after Wandi Pub, via the Chinese Bridge to rejoin Centennial Avenue near Alpine Park. I'll be tempted to go that way after a refreshing ale at the pub, if I'm not worried about losing time.
At Alpine Park, we head left up a short steep pinch to join White Star Road. Local MTBers will be familiar with the trails around here and might optionally throw in some singletrack. We then go under the road and follow Morse's Creek back to town via the Caravan Park and join the other triumphant riders for a post-ride beer.
My recce ride wasn't particularly quick, but took 3h40m. I stopped for a fair few pictures and treated it as a pleasant afternoon out rather than a suffer-ridden slog. On the day, it should be a bit quicker. Those on mountain bikes will likely be a bit slower than dedicated gravel grinder owners. A road bike capable of running 30c tyres or larger should cope fairly well, though the final descent of the 53km might be a little hairy. I'm running my road bike on 28c tyres for the Tour of Beechworth in July, but I don't think I'll be risking that setup for 5zero. I'll most likely be on my 29er hardtail for this one.
There's still time to get entered for the event, so sign up now!