So I woke up this morning one year older, and as it turns out, one bike up. Thank you Esther for organising that little surprise.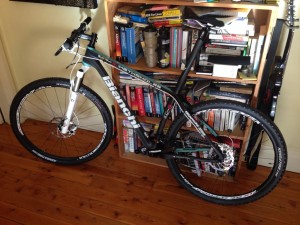 That's my new XT/Reba/Magura-equipped 2013 Bianchi Methanol SL, which I'd put a deposit down on a month or so back but didn't expect to be paying off for a while, since the budget that would have paid for it was spent on new wheels when I crashed the road bike at the start of October.
Turns out that Esther does sneaky things with the budget. Very sneaky.
It's currently in the workshop having the seatmast cut to size and a few minor tweaks done before I chuck in work for the day and head out to try and find a trail that's not on fire. Its first competitive outing is unconfirmed, but might be the Highland Fling in November. I'm not 100% sure whether the dual-sus machine might be a better choice for that particular race, but no doubt I'll figure it out once I've put a few kms on the new one.
Full report on the bike to follow. And big thanks to Atelier De Velo for going along with Esther's little plan. Sneaky.