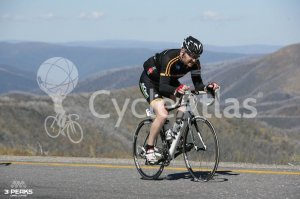 When we finished up the previous post, I was lined up in the starting area with clubmate Jason Livingstone, waiting for the off. The sky was still dark, with hints of a fine day approaching, and over a thousand riders were crammed into Slalom Plaza, tail lights flashing, headlights blazing and ready for the off. Inevitably, trying to funnel this many riders through a narrow start gate was always going to be a shambles, but rolling through happened largely uneventfully and we got onto Bogong High Plains Road in one piece.
I'd discussed my vague plans with Jason and I don't think he was altogether surprised when I mumbled "right, let's have it" and kicked off down the hill at full gas. I wouldn't see him again until lunchtime at Dinner Plain, 116km down the road.
I'd dressed with the opening descent in mind. Legwarmers, a full-sleeve base layer with a very close fit race-cut jersey with a wind vest over it and clear lenses in my eyewear. This would prevent me getting too cold as I hammered into the wind at speeds exceeding 80km/h. Sure, there was a nominal rider speed limit in place, but Bicycle Network's provided ride plans aren't achievable without breaking it. My nine hour ride plan called for me to be in Mount Beauty within 43 minutes, and I was going for it.
In practical terms, it wasn't a complete smashfest – I was in the company of hundreds of other riders, all riding to their own specific plans – which meant I couldn't always take an ideal line and I couldn't always overtake, but I reached Mount Beauty inside of the nine hour target time. Not by a large margin, but by enough to buoy my spirits for the upcoming Tawonga Gap climb.
I grabbed a little food and water in the flattish section, and jockeyed to find a good group up to the base of the climb. Turning onto the climb, I felt good, but not turbo powered. A third of the way up I was cursing the hill and realising that the smallest climb of the three was still no pushover. The nine hour ride plan called for a frankly mind boggling 21km/h average speed to the top of the gap from Mount Beauty. The ten 'merely' asked for 16km/h.
As it turned out, I slightly exceeded the ten hour plan, but was well outside the nine. I rolled past the rest stop a little over 40 minutes out of Mount Beauty. Strava thinks I averaged 16.6km/h for this section. It felt significantly slower. Never mind. Another downhill would follow and I was clearly descending like a well-thrown halfbrick, even if I was also climbing like the aforementioned building material. This one was fast. Strava says 57km/h average from the notch of Tawonga Gap to the flattening five kilometres later. In that time I managed to tag on to a pair of fast Sydney riders with whom I'd traded corners on the descent. This looked to be a good group.
And so it proved. The group of three became a group of four, then five, and despite a painful moment of spasm in my injured thigh, I managed to stay on and we began to swing leads out towards Harrietville. These guys were going for sub-ten times, so a good group to be in.
Unfortunately, this state of affairs was not long lived. We were absorbed by a larger group which came up from behind us and suddenly all was chaos. There were dropped bottles, touches of handlebars, yelling, cursing, half-wheeling and general bunch ride horror. The group would spread three or four wide across the road as riders would refuse to cede position to other riders who'd just done a turn on the front. Others would do mere seconds on the nose of the bunch before scuttling back and leaving a core of riders willing to work. My turn on the front was characterised, as per usual, of being left hung out to dry by a bunch while only one or two guys showed willing. I was not happy.
So, when I got to Harrietville, the fact that I'd severely cracked the shits with this nonsense may have contributed to my avoiding the rest stop and foolishly heading off up the Mount Hotham climb with not much more than half a bottle on the bike and my full cold-condition clothing still on.
About a kilometre or so in, I realised the folly of this move and pulled off to the side. I shed my wind vest and leg warmers, and rolled up the base layer sleeves. I opted not to go back down for more water to augment my nearly-empty supply, but to head upwards and hope what I had would last until the tollgate or Hotham Village itself. 30km, pretty much all uphill.
Not a grand idea.
I was on the dregs of my bottles before the 10-20km false flat section, and suffered for it. Luckily for me, the end of the flat riding had a rest stop which I didn't have written on my ride plan. Gratefully I pulled in, refilled, grabbed some fuel and poured a bottle and a half down my neck, before one of my pub companions from Saturday night rolled in. He was eager to go, so I made sure we were good and headed out, but I'd stuck myself in a bit of a dehydration hole and in a couple of kilometres I'd been dropped, left to deal with the climb on my own terms.
I'd ridden Hotham before, but the bushfires that came through last year and re-routed the 2013 Three Peaks had altered the character of the riding somewhat. The road itself hadn't much changed – aside from a few resurfaced sections, but the surroundings were different. I didn't recall being able to look down a precipitous drop to the road I'd just ridden up quite so often on my last ride, and I didn't recall quite so much breeze or exposure to the wind on the middle section. There were also missing signs which threw out my mental waypoints somewhat,
Previously, I'd done the climb in roughly two hours – on a Full Suspension 29er –  so I expected to get up quicker on the road bike. However the stops to de-layer and to re-fill, as well as the loss of power caused by dehydration and the extra climb of Tawonga in the legs, meant I was only just inside my previous time. Nevertheless, soon I passed the Diamantina, which seemed less daunting than before, and not long after I was over Hotham and on the descent.
This downhill section was quick – not as fast as the previous descents, due to an easier gradient and a slower, more dead road surface, but the thing that made it stand out in my mind was the number of discarded banana peels. In my mind, I was playing a round of Mario Kart, trying my best to set a fast time while dodging projectiles flung by my rivals. I was also very much aware of the fatigue rolling in. Several of the landmarks of my mental plan were out of the way, however. Two climbs down, the first hundred kilometres ticked and the half way mark approaching rapidly. As Dinner Plain came into view, I gratefully turned into the lunch stop, cyclocrossed my way across the grass and headed for food. I was probably a small amount behind schedule, but with only one major climb left and a lot of rolling terrain, catching a good group would maybe get me back into shape before Pain Lane and see me back on my schedule for the run into Falls.
 … continued in Part 3