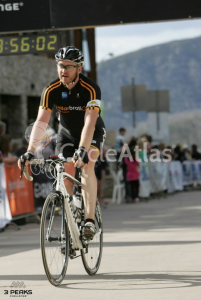 When we left off the last post, I'd just gratefully rolled into the Dinner Plain lunch stop, slightly behind schedule but optimistic, despite some warning shots from a niggling leg injury…
Lunch at Dinner Plain was one of the tastiest roast vegetable wraps I'd ever tasted. After ten gels or so, actual food tasted like a five michelin star experience. I half expected Heston Blumental to step out of a nearby door and grin at me inanely. It probably wasn't testament to the quality of the food, but rather my body's desperate craving for something that wasn't a vaguely disgusting fructose/maltose paste. I also grabbed two cans of coke for a sugar/caffeine boost.
While eating, I rid myself of the base layer that'd been a perfect choice for the Falls Creek descent but had been overkill since Harrietville, and grabbed my clothing valet bag. I'd packed a second set of gloves, so got rid of the sweaty pair I'd had on for the first half. I also sent my windvest and base layer in the return bag, certain that there wouldn't be a sudden drop in temperature over the next few hours. I'd also packed a heaping helping of gels and bars for the last section, which got shoved into various parts of my kit, sleeves, legs, pockets, the lot. Prepping to leave, I ran into the main contingent of LACC riders just coming in. A couple of them were looking a little grim, so I wished them luck, pointed them towards food and headed off.
Rolling out after a stop a little longer than I'd planned for, I was basically alone for the descent into Omeo. The road here is open and actually a little lonely, but I kept up as decent a pace as I could, and took advantage of the few steeper sections to get tucked and push my top speed way up above 70km/h. But it was pretty clear that my climbing legs were very much down on power. I'd be passing riders downhill and being re-passed on the climbs, which over the rolling terrain between Dinner Plain and Omeo meant I was seeing the same riders over and over. This section of the ride is a bit anonymous in my mind – it's hardly the most interesting section of the ride – but I do remember the road surface being frustratingly dead under the tyres.
Appraoching Omeo, problems were beginning to surface. My feet were in serious pain after knocking over 160km on tiny MTB pedals. As I'm mainly an MTB racer, and like to run the same pedals across all bikes, my pedals are CrankBrothers Eggbeaters – Level 3 on the race MTB, level 2 on the Roadie, Level 1 on the spare MTB. What these pedals don't offer, though, is a big comfy platform. You're basically standing on a spindle, and even with a carbon soled shoe, they take a bit of a toll over long distances. Worse, my injured left thigh muscle was activating – at full tension – periodically, stopping me pedalling and crying out for some respite.
I threw myself down onto the grass at Omeo and shed my shoes, massaging some life back into my feet. After stretching the bad muscle as much as I dared, I filled the bottles, got the shoes back on, wincing as I did, and got away from the stop just in time to latch onto what turned out to be a superb little group, the best of the day.
From Omeo to Angler's Rest is again rolling territory, with plenty of bends, but this time into a steeper valley, so a bit more scenic. Our group was pretty well disciplined, willing to do turns and actually quite strong. I took a few 1km pulls on the front with the stronger guys from the group, and we were travelling nicely above my target average. Things were looking very positive.
Into Angler's Rest there was a toll of fatigue being exacted, and the group had been pared back slightly. About five of us continued to roll good turns out towards WTF Corner. It looked as though we were all first-timers on this ride, so some trepidation made itself known through the last section, and my foot pain was starting to come back. I counted down the kilometres. Anglers Rest to WTF is only about 11km, and the turns were getting shorter, but we kept at it, right up until the point we saw the WTF corner marshalling station.
Were those evil grins on the faces of the Marshalls? This looks a bit… OH WHAT THE FUCK?
Almost 180 degrees to the left and we were faced with a wall of tarmac, stretching into the sky in front of us. We all knew it was coming but that didn't lessen the shock that the legs felt in the opening super-steep section. We were in for 13km of suffering between here and the Trapyard Gap rest stop, with various descriptions being bandied about. "9km at 9%", "10km at 10%", "pitches of 15%" and variations on the theme. Riders were swearing, being dropped, throwing themselves suicidally at the climb, zig-zagging, climbing off, swearing, cursing and generally having a horrendous time.
For my part, I spent about three kilometres with my head almost on the stem, grinding out the smallest gear I had, right hand instinctively grabbing for an easier gear every few seconds and failing to find it. I lost my mental grip on the ride and had no idea what time it was, how far I'd ridden or indeed how far I had left to go. After about 4km, I ground to a halt, feet screaming in pain, and had to shed my shoes again. Strapping back in after the blood returned, I felt the benefit of running MTB pedals – just near me were a couple of riders on classic road pedals, hobbling next to their bikes on metal cleats. One took off his shoes and walked in socks instead. I could walk in the shoes and I did so for a while, before deciding to get back on and grind it out.
I have memories of complete suffering, brightened only by the occasional Hells 500 sign jauntily placed next to the road, right up to the easing of the gradient at Trapyard Gap and the last rest stop.
From here, in my hopeful, desperate mind, it would be flat all the way to Falls Creek.
Errrr… no. From here, the road is an undulating 22 or so kilometres of windswept plateau, across which we wound or way. About 3km out, I was suffering like hell. I'd genuinely cracked, my legs were struggling to put ouot any power at all, my heart rate was maxed just trying to maintain 20km/h, but I knew I was going to make it in. Chatting breatlessly with some other riders I started feeling less sorry for myself and more elated that I was nearly home. The ten hour target ticked by on my Garmin but I didn't much care. I crammed down the last of my food and slurped up most of my water. I could sense that just ahead, the gradient would ease off and I could give it one final kick into Falls Creek.
And so it did. The road flattened and I could see it snaking off into the distance at a gradient of maybe -1%. I bade farewell to my companions, kicked and went into TT mode. Head down, forearms on the bars, pedalling at just the top end of what I could put out, yelling at my own legs, telling them that we had a fucking deal and that they'd better get me to the end.
The reservoir swung into view and I was riding over the top of the dam, with a hell of a crosswind. At the end of the dam, at a slight rise, some nutcase with a cowbell yelled that it was only a kilometre to go. I uttered a wordless curse under my breath and attacked the last small rise. My Garmin was showing a bit over ten hours and ten minutes. A marshall warned me to go slow as there was a sharp left coming up. Yeah, right.
I could see crowds of onlookers behind barriers, and I braked and turned back into Slalom Street, where I'd started pedalling over ten hours before, saw the finishing arch, got out of the saddle and put in what felt like a monstrous sprint for the line. In actual fact, it was a little over 30km/h and once I crossed, I sagged gratefully back into the saddle and let out a huge sigh.
Done. I stopped the Garmin. 10:16, give or take. My official time would wash up at 10:17:31, outside my target but far, far inside the dreaded Lanterne Rouge
At the sign off station, my legs buckled a little as I dismounted. A cardboard box of gluten free pasta tasted like manna from the gods, and I accepted my finishers jersey gratefully, before letting a marshall park my bike and collapsing onto the grass near the two LACC riders who'd made it in ahead of me.
What a day.
Eventually I summoned the energy to retrieve my bike, hunt down a beer and go find my van ready to head back down the mountain. I hadn't achieved my time, but I'd achieved the real goal. I'd got to the end, in one piece, of 235km of stunning mountainous terrain. I was, frankly, elated.
A couple of beers in Bright later on and I was ready to collapse. But I was already planning my next Three Peaks. Next year, it's really on.