As ever, injury has been keeping me off the bike of late. So far the score for 2014 is:
Broken ribs: 1
Elbow bursitis: 1
Significant muscle strains: 2
Physio Visits: too many
Concussions: What? Who said that? Where am I?
Still, here at The Crankset Global Domination Headquarters and Bicycle WorkshopTM, I have taken delivery of a few new gadgets, which I'll probably be reviewing soon. I am kinda sorta back on the bike, riding but not racing and hoping everything heals up enough so I can shed the extra kilos I've put on while moping around sulking and lurking on the sofa playing video games and drinking beer with my undamaged arm.
Wow that was a long sentence.
Anyway, first in the new gadget list: A Stages Powermeter on an Ultegra crank
Second, A Fly6 rear-facing combo tail-light and camera
Third, a Topeak floor-to-ceiling bike rack.
(I also bought a new helmet but that's the same as the one I destroyed when I broke my rib so no review for you)
I'm easing back in, so impressions on the first two are preliminary at best, but the third I can enjoy from my chair and let me tell you this: If you don't have one of these, you're missing out. Yes, your spare room/home office/studio/den/torture chamber can have that bike-shop charm with your pride and joy hung from the wall looking all shiny and bling, so when you're not riding you can still go and look at them and say to yourself "That's a bloody nice looking bike, that." several times a day until your significant other wants to kill you.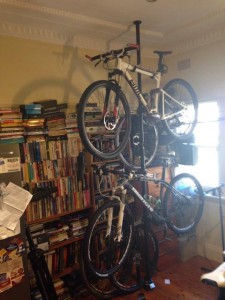 Just don't try to hang a Pinarello Sword on it. Because 1: It won't fit and 2: that bike fell out of the ugly tree and hit every branch on the way down. Seriously.