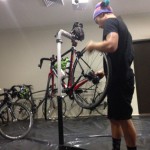 Day two and there were plenty of tired bodies at the breakfast table. Start was delayed somewhat by heavy fog, so extra calories were taken on board and even more coffee put away. Meanwhile down in the bike room, the support crew were doing a sterling job on the maintenance side, making sure everyone's gears were running smoothly, checking over tyres for leaks and swapping out a couple of cassettes for riders who'd overgeared a little. I really can't speak highly enough of the support squad and the great job they did.
Soon the fog cleared and the bunch rolled out into Bowral town centre and off towards Fitzroy Falls. The terrain was rolling and soon we'd broken into two bunches, with me in the back group. Cresting a hill I saw the support car ahead with the front group and decided to bridge the gap and wake up my tired legs, which I'll admit were feeling less than stellar.
Regrouping at Fitzroy Falls, we were treated to a clinic on descending technique, since the meat of the day was coming up – Barrengarry descent and the climb back out of the valley, on slightly damp roads.
My cornering confidence has been a little low since spilling at Olympic Park and cracking my rib, so my preparation was pretty much all mental. Remember the fundamentals – brake in a straight line and in plenty of time. Look through the corner. Weight on the outside foot and the inside hand, balanced through the centre of the bike. Don't target fixate on the hazards. Relax. Continue Reading →